The World Boutique Hotel Awards is a hotel and travel website that recommends and recognizes luxury boutique hotels in different categories around the world. This is the first and only international award given exclusively to honor the excellence of boutique hotels.
Their annual Awards Ceremony brings together over 250 individuals from the luxury boutique hotel sector, including international boutique hoteliers, press, and key industry insiders. It is also a one-stop shop for a travel enthusiast looking to see the world's hidden gems while staying in luxurious accommodations. No matter who you are or where you are going, you can look for a luxury stay in a few clicks.
The Problem
Although Boutique Hotel Awards competes with well-established luxury hotel brands with a strong heritage. But the client was not happy with the old website as there were some major problems:
No Brand Recognition
Brand recognition is when people can recognize you through visual or auditory clues such as slogans, logos, images, banners, colors, etc. The website doesn't have a brand, and people rarely know about boutique hotels' awards.
Mobile & Cross-Browser Compatibility
A Web page that works flawlessly across multiple device-browser combinations is necessary for business.
Not only does it establish brand credibility, but it also ensures no stones are left unturned to cater to potential customers and boost revenue. We have noticed that the client's website was not generating expected revenue as the website is neither mobile-friendly nor compatible with other browsers.
Slow Website Speed
Website speed plays a crucial role in the success of your website. It affects a variety of key metrics, including the site's visibility and conversion rate. This was exactly what was happening with the client, as their website needed speed optimization to provide a smooth browsing experience.
Bad UI/UX
From onboarding new users through very long sign up forms, to non-responsiveness of websites, to poorly created information architectures, bad UI/UX leads to a negative brand perception of the business. The client's website was not gaining success as it had poor UI/UX, which failed to grab the user's attention.
Inefficient CMS
A robust content management system helps business owners to have control over the content, which means having the ability to update, change, or delete any images, text, video, or audio. But our client's website was cumbersome to use and navigate due to an inefficient CMS.
The Solution
Considering the clients' requirements, we worked with them closely to formulate an appropriate plan that would accomplish their immediate goal and allow them to grow more into their future endeavors. After listening to their vision, we decided on best-fit solutions and then moved forward with the following solutions:
Responsive Experience
The client's old website was not responsive to scale, so we made it responsive so it will work great on all devices with large and small screens and increase visitors' time on your site.
Use of Adaptable Technology
A strong internet presence is vital for every online business. We choose to use adaptable technologies to provide a scalable and dynamic digital presence for their website.
Loading Time Optimization
A fast page load time is essential for a website, as today's customers are obsessed with speed. We have carefully worked on every element to optimize the website's speed so users can flawlessly browse the site.
Fast & Clear Booking Process
We have made the bookings simple for the users. Our experts have to build a streamlined booking process on the website where customers can make an instant booking in just a few clicks.
Content Control
The client needed a quick response to the market demands, so our team has implemented a friendly Content Management System that is easy to access, flexible, and manages content in unique and exciting ways.
User-Friendly Interface
We have used a user-friendly interface for the website as it enables users to learn the system quickly and use it efficiently, which enhances customer engagement and retention.
Key Features
A powerful content management system has been used on the website that has made the website user-friendly, easily accessible, simple for content scheduling etc.
Now, search is easy for the user as we have improved the website's search capabilities.
In order to enhance the user experience, we have implemented a seamless process for purchasing tickets.
Implemented an effective hotel reservation system.
Now, buying a ticket is easy for the user as we have made a seamless online process for purchasing tickets.
Winner management, publication management and sponsors' Management are now easy on Boutique Hotel Awards.
To support multiple currencies, we have added Muti currency to the website.
The integration of Xero Accounting Software into the site is key as it stores data securely online and encrypts it using industry-standard data encryption.
Used the Google Maps API as it is one of those clever bits of Google technology that helps you take the power of Google Maps.
Use of superior UX (User Experience) to understand and plan users' interactions with products, systems, and services.
To provide ease to the client, we have added some of the features like awards winner management sponsors management system to the site.
A seamless ticket purchasing process has also been implemented on the site for the publications section.
A book purchase/ ticket/ entry / nominations section is also added to the site.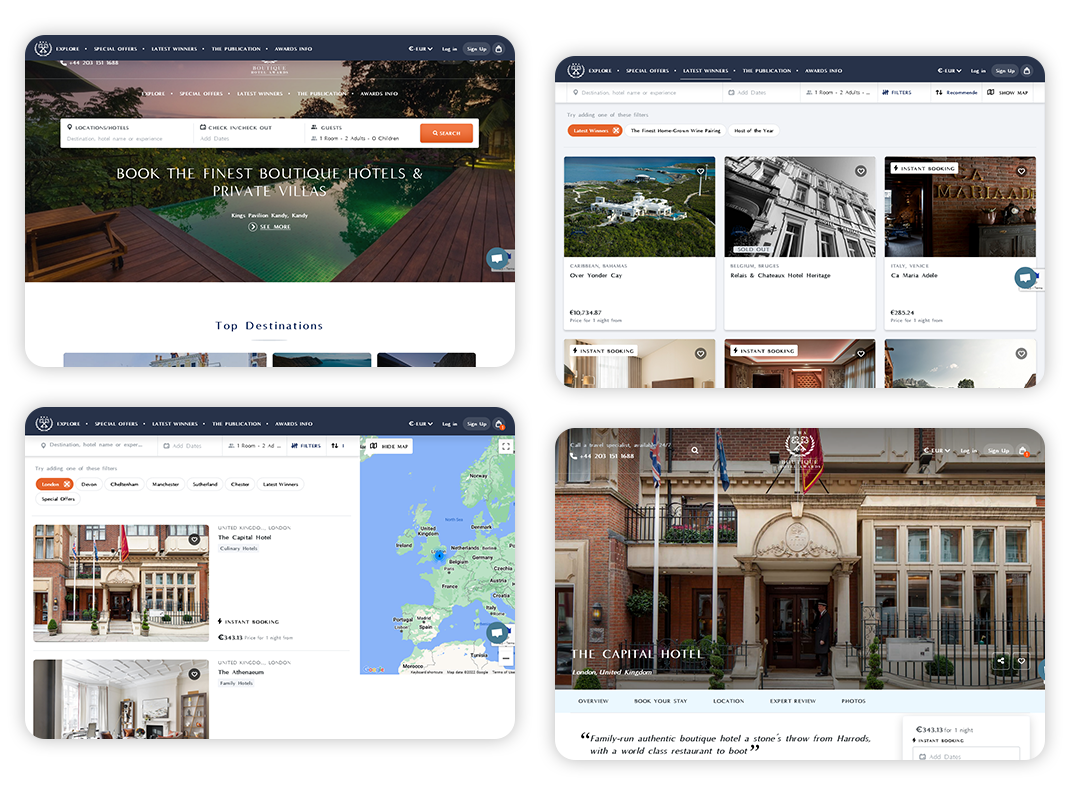 The Result
The client was thrilled to see no apparent flaws in the work they got from our team. Despite the challenges, our software developers conjured strategies to make the process efficient.
Booking Conversions
We have made the booking process simple for users to improve the website's conversion. And now, booking conversion rates and revenue have increased overall, and their reliance on OTAs has decreased.
Mobile Bookings
Previously, there was no option for mobile booking, but now, after implementing the mobile booking feature to the site, the conversion of bookings has increased from 20% to 35%.
Increased Engagement
After making the website responsive, the amount of time visitors spend on the site has increased by 20% and is expected to grow more with time.
Improved Brand Awareness
"Brand awareness" refers to people's ability to recall and recognize your business. Our team has developed strategies to increase the website's brand awareness, which comes with results; both brand awareness and understanding of the brand have drastically increased.