The real estate sector is quickly catching on to the trend of incorporating virtual reality into its operations. Virtual reality technology provides a plethora of fresh options for real estate agencies to promote their offerings. A real estate transaction typically includes looking at listings, haggling over prices, and visiting the property in person. This procedure is extremely reliable and has consistently produced excellent outcomes. On the downside, it takes a lot of time from both the client and the realtor. It's not just the sellers for whom a property evaluation may not always be convenient. Virtual reality (VR) technology has the potential to revolutionize this field.
By leveraging virtual reality, real estate professionals may expand their client base, attract more buyers and sellers, and provide better service overall. A recent survey by the National Association of Realtors found that 44% of buyers begin their property search online. This highlights the importance of embracing new technology in the real estate industry. So, are you curious about how real estate agents might benefit from virtual reality? Continue reading this post!
Importance of Virtual Tours in Today's market
Virtual tours allow customers to see exactly what they want, which enables them to be more decisive when buying, therefore you cannot run your real estate firm online without them. Also, VR enables you to view a home without having to move around physically. With a few clicks, prospective buyers can quickly browse every room and crevice of the house.Virtual reality in real estate provides users with an immersive experience in contrast to straightforward pictures and movies. With VR, you can even do amazing things like letting the user switch between different materials in the environment, test out various furniture arrangements, alter floor plans, or view the perspective from various heights. Views are captured with a unique 360-degree.
Statistics of the Success of Your Virtual Reality (VR) Tours
The majority (51%) of homebuyers now start their search online, making virtual reality a natural extension of this trend.
While most Millennials are early adopters of new technologies, it's not surprising that 71% of them have a favorable opinion of VR. Nonetheless, it may be more difficult to persuade the elder generations.
The typical home-buying process looks at seven different houses before making a decision. Virtual reality has the potential to significantly reduce the time people spend looking at houses they ultimately decide not to buy.
Already, 77% of consumers prefer to take a virtual tour before actually visiting a business.
68% of customers want to visualize their existing furnishings in the new space.
Currently, 3D virtual reality tours are deciding factor for 62% of homebuyers in the United States.
Advantages of Using Mobile Apps for Home Buying
Buying and selling homes is an extremely digitalized industry. In today's busy world, prospective homebuyers rarely make personal visits to many sellers. Smartphones are favored because they are convenient, quick, and efficient for property inspections. Studies show that more than 80 percent more apps were downloaded in the most recent metric year than in 2016 when 140.7 billion were installed on mobile devices. Take a quick pick at the graph below for more clear insights.
Image Source: Statista
In 2020, researchers anticipate an even greater growth in this figure. The virtual tour function of the real estate mobile app is most likely to be appreciated by users aged 53 to 71. Since the number of people who use mobile apps for online home searches is growing each day, many real estate companies are looking to hire real estate web development services. The following are just a few of the many advantages of having a real estate mobile app:
Establishing communication with the customer
Easy property Browsing
Better Understanding of Customers
Increase in Sales and Customer Retention
Effective Marketing Opportunities
Effective Business Representation
Commission-based Earnings
Enhanced Marketing and Branding
Popular Real Estate Mobile Apps for Virtual Tours & Home Search
Explore the best virtual tour apps to see which one offers the features that are most useful for your company. The majority of users on Capterra have given these tools a positive assessment, which is shown in both the ratings and the number of reviews.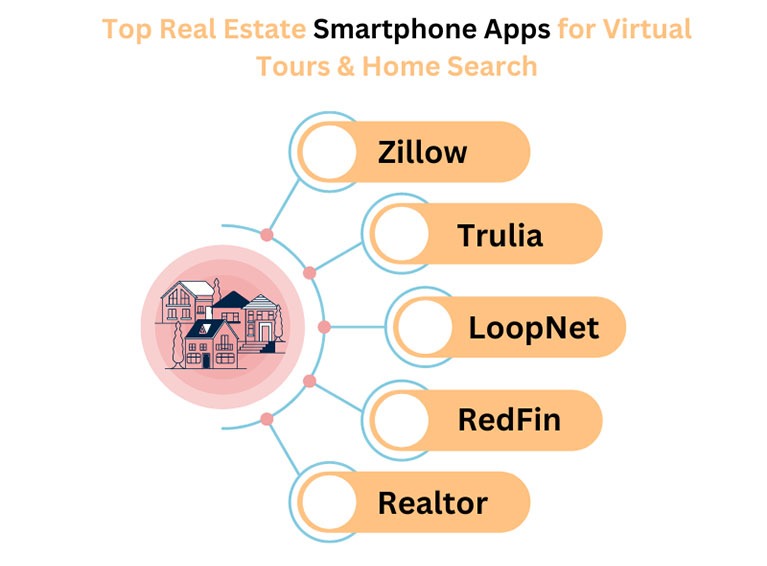 Benefits of Virtual Home Tours for Home Buyers & Real Estate Agents
1. Save Time
You could get hundreds of calls from interested buyers after advertising a newly listed property. It can take a lot of time to arrange to meet them all. Additionally, some are merely interested and have no plans to purchase. Customers can view the property from the convenience of their own computers or mobile devices with a virtual tour. Those serious about learning more will make contact and ask questions. This will allow you to devote more time to other areas of your organization.
2. Save Money
It can be very costly to drive back and forth to meet prospective clients and show them houses. The money you'll save on petrol alone is worth it. You can't even be sure they'll buy, which is the hardest part. Perhaps they find the corridor uninviting. Another possibility is that they decide the area isn't right for them. These problems can be avoided altogether by using a virtual house tour, all you have to do is post the tour to your website for potential buyers to take a look around.
3. Drive More Visitors to Your Site
With this cutting-edge technology, your website could see a dramatic increase in visitors. More customers will be drawn to you as a result. More than forty percent more people are interested in a listing for a property if a virtual tour is included. Increases in traffic and revenue are the direct result of more clicks. Your real estate virtual tours will also rise in the SERPs.
4. Bounce Rate Reduction
Bounce rate is the percentage of website visitors who only view one page before leaving. Virtual tours, along with high-quality information, are a great way to keep people interested for longer. The typical length of a virtual tour app is 60 seconds. This means that visitors will stick around for longer. Because of this, your site's bounce rate will decrease, which in turn will increase its traffic and boost its search engine ranks. They help you retain more customers and get more attention online.
5. Get Social Media Attention
A fascinating virtual home-buying tour has a better chance of going mainstream. It will become viral on social media and people will talk about it with their friends. Signals from social media are used as a ranking component by search engines. Your website's rankings will improve if its content becomes popular on social media. Simply put your site's visibility and traffic will improve.
How virtual Tours Can Save Time & Money for Buyers and Sellers
Every prospective purchaser necessitates the time and effort of the property dealers and developers in the form of a home visit (which is occasionally provided at no cost to the purchaser) and a guided tour of the property in question (read fuel and workforce expenses). The property will only be shown to prospective customers who have expressed an interest in purchasing it after taking a 3D virtual tour of the home first. This will help the developers save both time and money. Homeowners have a better chance of closing a deal with prospective purchasers if they use a virtual tour to highlight the best features of their property. It is also a way that may be utilized to increase credibility and facilitate open conversation between individuals.
Real-World Examples of Successful Virtual Tour Home Sales
The widespread adoption of virtual tours is transforming many sectors and the way we do business. This is especially true in the real estate industry, where more and more firms are adopting the usage of virtual reality tours of available properties. The incorporation of virtual tours into the real estate market trend has allowed for the creation of stunningly realistic 3D house tours while also greatly simplifying the processes of viewing, building, and selling. Real-world examples of virtual tours that enhance the consumer experience are shown below.
1. Matterport
Matterport is the most innovative firm in the spatial data industry, with a primary focus on digitizing and indexing the built environment. Our all-in-one 3D data platform enables anybody to turn a space into an exact and immersive digital twin that can be used to design, create, run, promote, and understand any location. This can be done by anyone, anywhere. This platform assists clients in realizing the full potential of space at every stage of the space's lifespan, hence assisting customers in realizing previously unrealized efficiency.
2.  Real Tour Vision (RTV)
Using RTV's Fusion virtual tour system, experienced photographers can give real estate agents and company owners the best possible finished product. The virtual tours and property websites it creates with Fusion are stunning. Users can add high-definition video (up to 1080p), still, images, 360-degree panoramas and videos, embedded Matterport and other 3D productions, insert floor plans and create full walkthrough virtual tours, and provide real estate agents with enhanced marketing tools and services designed to secure more listings and move properties more quickly.
3. iStaging
For companies looking to improve their brand's marketing and sales communication, iStaging is a commercial 3D/AR/VR content development platform. Brands may use iStaging to instantly create their digital twins of cities, real estate developments, large-scale exhibitions, and more. They currently work with real estate professionals from over 50 countries and service over 30 high-end brands and 300 international trade companies via online showrooms. The iStaging platform provides enterprises with intuitive "drag and drop" editing of their virtual environments, which can be done at any time and from any location.
4. Knock CRM
Knock CRM helps prepare executives with the business intelligence and insights they need to outperform the competition, while also equipping leasing teams with the tools they need to speed up the successful leasing and renewal outcomes of their clients. It is a performance management platform that uses top-tier automation, integration, and data transparency tools to boost occupancy and renewal rates in the domestic property management industry by connecting leasing teams, marketers, regional managers, and upper-level management. Knock is used by hundreds of the largest property management companies in the country, making it a trusted and proven technology leader in the multifamily space.
Future of Virtual Reality & Augmented Reality in the Real Estate Industry
AR and VR tools and technology, when used appropriately, have the potential to significantly boost both brand exposure and engagement for real estate brokers and agents. They make it possible for you to offer real estate properties and items related to those properties in innovative and user-friendly ways, which ultimately leads to an increase in sales. In addition, augmented reality (AR) and virtual reality (VR) are slowly but surely altering the future of the real estate industry by demonstrating how easy it is to tour houses and experiment with various architectural and interior design components. In addition, those who have disabilities have a better chance of being understood, particularly when it comes to the challenges they face accessing public spaces.
Tips for Preparing Your Home for a Virtual Tour
Virtual tour or you can say virtual real estate experience allows buyers to focus their property search from their computer by giving them a 360-degree view of the inside. It's crucial to remember that your home looks different in images and virtual tours as potential buyers will be looking at hundreds of them. De-clutter for your virtual tour shoot like you would for an open house. Hide personal goods or donate or discard them. Your goal is to optimize your home's space and depersonalize it enough for potential purchasers to picture living there. Here are some tips to cut down the clutter:
Reduce the amount of furniture in a space to give the impression that it is larger.
Remove everything off the kitchen counter and put away goods that are used daily, such as the toasters, hand soap, and magnets that are on the refrigerator.
Toys for youngsters, bicycles, gardening tools, and anything else that can be considered clutter should be hidden from view.
Put cleaning supplies and bathroom necessities away in the appropriate cabinets or closets. The majority of virtual tours will only shoot the principal rooms on your property.
During the time that the home is being exhibited, remove any photographs of the family that are displayed on the walls or shelves.
Discard those old newspapers and magazines that are cluttering up your home and taking up unnecessary space.
Final Thoughts
Real estate agents have been able to take their businesses to new heights because of the implementation of virtual tours. In addition to this, they have made it easy and convenient for customers to explore a property in depth before making a purchase. But, to successfully integrate VR mobile applications, you will need to form partnerships with the industry's leading mobile app development company. that has previous experience in the construction of VR-compatible websites (Virtual Reality)