iPhone App Development Company
Your Reliable iOS App Development Partner
Create future-ready iPhone applications for your business from the industry's renowned iPhone app development company. With a dynamic team of experienced and reliable developers, we are a full-stack iOS app service provider.
Whether you are looking to build a new IOS app or just want to customize the existing one, we'll help you every step of the way, from solution design to successful deliveries.
Our services
Our Cutting-Edge
iPhone App Development Services
App Development Consultation
Based on the characteristics of the iPhone app, they are suited for a particular business type. Our iPhone app experts have helped businesses decide whether iOS is the right fit for them or which technology works best for their needs.

UI/UX App Design Services
iPhone applications are well-known for their visually appealing and memorable designs. Our team establishes your brand based on what your users expect; our designers are creative and specialise in creating experiences that are long lasting.

Custom iPhone App Development
As a leading iPhone app development company, we carry expertise in building future-forward and scalable iOS solutions. We have a specialty in creating custom-made iPhone solutions for both entrepreneurs and enterprises across the globe.
Multi-Platform Deployment
Nascenture is the custom iPhone app development company that excels in seamless app integrations across multiple Apple devices and makes sure that your brand is successfully running on every device your users are active on.

iPhone Software Testing
We follow a well-structured iPhone mobile app development process to get your security and performance at the center. In order to give you the best of our services, we'll make sure that your iOS application is glitch-free and hack proof.

Enterprise iPhone Apps
We employ a team of industry experts skilled enough to develop iOS applications that simplify your workflow and engage your employees. We work to make your product a brand by creating flawless iOS apps for your business.
Our Experience
Build Scalable iOS Apps With the Premier iPhone App Development Company
Nascenture is the most reliable iPhone app development company with a wealth of experience in iOS-specific technologies, integrations, and functionalities. We are the trusted gateway for your business to develop iPhone applications at pocket-friendly prices to increase the revenue of your business. We provide hassle-free and superior iPhone app development services using effective development solutions. Our development process involves proven and cutting-edge techniques and methodologies, which help us remain at the top of the iOS app development company.
Every developer in our team is certified and can develop complex applications as per customers' requirements with high quality UI and UX. By leveraging their capabilities, our team of experts is efficient enough to manage a multi-thread environment by building advanced algorithms, providing architectural and technical leadership to develop and design your core iPhone applications. As an industry's leader iPhone app development service provider, we offer end-to-end iOS app development solutions to meet our clients' different mobile app requirements.
Why choose us?
Why Choose
iPhone App Development


Services From Nascenture?

Client-Focused Approach
Our development world revolves around the client's needs, and we provide the best iPhone app development solutions by adapting their specific business needs.
Dedicated Developers
Our all client projects are assigned to a well-experienced and highly qualified team of developers and designers who deliver top-notch solutions to our clients.
Backups of Data
We work with the backup to keep your data secure. Our technical iOS experts keep your project backup to respond to misfortunes as quickly as feasible.
High-Quality Services
When you choose Nascenture for iPhone app development services, you will get high-quality design and development services that meet your every business need.
Flexible Development Process
Our development team uses an agile development process that enables us to provide you the high-quality, scalable, and future-ready iOS app development services.
Complete Security
We offer high-security services to our clients. For assurance, if you want us to sign an NDA before starting, we'll happily do that for you.
Have a Project In Mind?
We are happy to assist you with our web design, development & digital marketing services.
FAQ
Frequently Asked Questions
The demand for Apple devices is continuously increasing, and much of that revenue will come from those devices and the iOS platforms. The bar of the app's popularity has also increased over the years. Therefore, it's not wrong saying that iOS app development is a solid investment.
Mobile applications built on the iOS platform are high in quality and have more innovative features and security than Android applications. iOS offers better revenue to its users and takes less time and cost to develop a high-performing application.
One of the main benefits you'll get with the development of the iPhone app is a high-end security layer along with the high-quality performance and revenue for your online business. It helps to promote your brand to enhance productivity and profitability.
Time taken to iOS app development is entirely dependent on the complexity of the application and structure of your project. Each stage in the app development process takes a different amount of time.
No, it is not that difficult to develop an iOS application. With the proper goal and little patience with learning, it is not hard to learn iOS app development.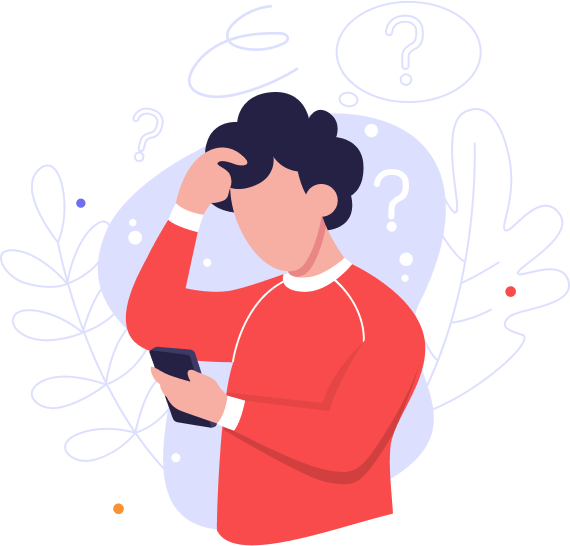 Our Blog
Related Articles
Let's get started
Have a Project in Mind?
Let's Get To Work
We are happy to assist you with our web design, development & digital
marketing services. Lets get in touch now.