Businesses all over the world credit their success to the rise in popularity of their websites. It's common practice to utilize a website to market oneself or one's business. It's the quickest and easiest way to let many people know you'll be there. But there have been major shifts in how websites are built throughout time. As people rely more on the internet for their day-to-day needs, their tastes have changed. As such, you must keep up with the latest best practices when launching a website.
If you want customers to know who you are online, you need a website. If your website is badly made or doesn't work, you will likely lose customers. A whopping 94% of users will immediately abandon a website they find to be out of date. Moreover, 75% of customers judge businesses based on their websites. As you can see, having a top-notch website is crucial. Therefore, We will discuss seven techniques to make your website distinctive from the competition.
The main challenge for any website owner seeking to differentiate themselves and establish a website with substantial impact is to understand the target audience's preferences. So, let's talk about how to make your website different from the others in this blog.
Essential Seven Tips On How To Make Your Website Stand Out
1. Use High-Quality Images
Images are extremely important when it comes to the overall look and feel of your website. Despite this, the majority of websites either utilize stock photographs that are commonly used in their industry or select photos that are boring to the typical viewer. Make use of images that are not unique but also pertinent to the information that is presented on the website. Using high-quality visuals also helps increase your ROI in marketing and improve revenue. You can get photographs of high quality on websites that sell stock photography; however, it is recommended to use your own images.
2. Compose Compelling Content
A strong, writing style can do wonders for your website's visibility and conversion rates. Most websites utilize boring, generic copy that doesn't do much to engage readers. It is important to keep in mind that the purpose of your website is to sell to the reader. For instance, if you have a healthcare website then your content should focus on creating fun and engaging content idea for the healthcare industry. You are still trying to sell the reader something, even if all you are selling is the fact that your company is legitimate if you have an informational website. Make your headlines catch people's attention with captivating writing, and ensure that the body text backs up the claims made in the headlines.
3. Implement a Unique Layout
If you want people to pay attention to your website, its layout needs to be practical and easy to navigate. Here, it's important that consumers exclusively focus on how the website's interface makes it simple for them to carry out their desired actions. Customers are more likely to have a good time with your business and your products if you design your website, user manuals, and even packaging with them in mind.
Users' positive experiences with your product will stick with them, leading to increased brand loyalty. There are a variety of approaches to take. Layout, however, is the foundation upon which success is built. You should start thinking about methods to use all these ideas in your own business right away if you want to make sure your business stands out from the crowd.
4. Utilize Search Engine Optimization(SEO)
SEO is important if you want to build a sustainable brand, reach more people, and increase your business's bottom line. Using SEO, you can make your site more visible in search results for terms associated with your business, goods, or services. According to a Statista study conducted in July 2022, Google held approximately 83% of the global search market, while Bing held nearly 9%. Yahoo, meanwhile, had a 2.55 percent share of the market.
Image Source:- Statista
You may increase your chances of making sales to people in your target market by using search engine optimization to raise the perceived worth of your brand. SEO also helps your website stand out from the crowd, which increases traffic and makes your site more discoverable. Today, this tactic is among the most powerful options available.
5. Strategically Place Your Calls to Action
A web page's call to action is a crucial component that should be included in a deliberate manner. For the simple reason that a well-placed CTA (Call to Action) provides direction and helps the user take the next logical step. Customers who can't figure out how to sign up for your newsletter or make a purchase because there is no obvious CTA are less likely to stick around. Potential clients can easily proceed through the sales funnel with the help of a call to action because it specifies the next step they should take. There can be more than one call to action on a page if there are various possible next steps for the user to take.
6. Social Sharing Buttons
It is crucial to add social sharing buttons on your website as social share buttons give customers the ability to display their eCommerce purchases on Facebook, Twitter, Pinterest, or other platforms. Reports show that over 4.26 billion people used social media around the world in 2021, and that number is expected to rise to almost 6 billion in 2027.
The majority of online shoppers also use at least one form of social media, so these buttons create free promotions for an online store. Include this feature on individual product pages to call attention to particular items. Social share buttons also add convenience for users who want to post a particular product by removing the extra steps of copying, pasting, and posting to a separate website.
7. Optimize for Mobile
Smartphones and tablets have become increasingly popular for accessing the internet on the go. There are currently more people using mobile devices than desktop PCs to conduct online searches. Statista reports that in the United States, around 63% of all visitors to organic search engines are made from mobile devices. The graph below shows you the real insights into a mobile share of organic search engine visits in the United States from the 3rd quarter of 2013 to the 4th quarter of 2021.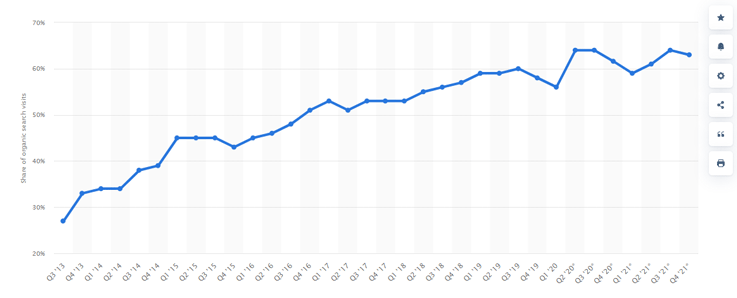 Image Source:- Statista
You should think about making your website mobile-friendly if you already have one. Because a mobile-optimized site automatically adjusts to the screen size of the user's device. It not only ensures optimal presentation on mobile devices but also simplifies site navigation. Depending on the size of the user's screen, the text is rearranged, the navigation buttons are made larger, and the graphics are optimized.
Improve Your Website's Visibility Today
Sales can be increased significantly with the use of a completely optimized website with an interesting online presence. If visitors aren't coming to your website, it's probably because they can't locate it when searching the web. The above-mentioned methods will equip you with the resources necessary to make your website stand out. We're here to help if the thought of making a unique website from scratch or a major redesign is too much to bear. With our web design and development services, we can make your website stand out from the crowd.