Most people use mobile internet connections to browse different websites and media resources in this digital era. Because convenience and speed have become crucial in keeping online shoppers engaged, it is because of the increasing usage of mobile devices. 
As per the report of Statista, The number of smartphone users worldwide today surpasses six billion and is predicted to  to grow by several hundred million in the next few years further. Let's take a look at the graph below: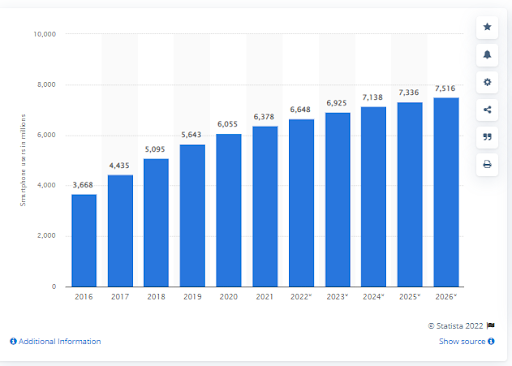 Thus, today most websites are built as user-friendly and performant as possible to provide the best user experience. You might be thinking, why is it essential? Because it takes several seconds for a user to get interested and engage further with the web page.  
As per the report of Clutch.co, half of the small businesses have a mobile application and the other half plan to develop a mobile application in the future. It is because mobile applications offer a valuable business opportunity: from going digital and competitive and showing presence on the market to attracting more customers. This is why businesses have started adapting Progressive web applications (PWA) to get the best from the enterprises and attain users' attention. It is because of various Progressive Web App Benefits that users are getting. 
But what exactly are progressive web applications? How it will benefit your business. To find out the answer, we have conducted deep research, so let's take a quick look.
What Are Progressive Web Apps (PWAs)
Progressive web application (PWA) is the improved version of web applications that allow shoppers to enjoy an app-like experience via the website (using web browsers). 
It is an application that uses web browser APIs and features to build a cross-platform apps that looks like a Native app and provides the same experience to the users. 
PWA builds and lives on the web but functions more and more like a native application and provides you capabilities like offline usage, push notifications, and most importantly, web application users can install it as a standard app on their mobile computers or mobile phones. 
Progressive web applications are the latest web development trend followed by developers and entrepreneurs to maintain their online presence as it helps business owners to retain and attract mobile audiences. 
Additionally, PWAs help you with the customer subscription as it sends push notifications from your website, which comes with the result. If anyone downloads PWA, they will automatically become subscribers to your website. You can easily interact with them and motivate them to get back to your web app.
Features of Responsive Web Apps
Full responsiveness and browser compatibility
Connectivity independence
App-like interface
Push notifications
Self-updates
Secure
Easy installation
Progressive Web App Benefits For Business
Here are some of the critical benefits of PWAs that can help your business in many many ways: 
Fast
It is a fact that the speed of the websites is vital to the success and profitability of any online business, whether it is a Blogging website, Auction online, Dropshipping, or eCommerce store. Speed matters a lot to increase the visibility of your website in search engines. 
The users quickly abandon slow websites, as they get annoyed when a website takes more than three seconds to load. Researchers show that users left around 53% of mobile web portals because of their low speed. 
Progressive web apps are made to help users quickly get a product they are trying to find and easily purchase. PWAs immensely increase the speed of your website that gives a great user experience to your visitors.
Reliable 
With the arrival of progressive web apps, users are no longer restricted to devices constantly connected to the internet. A PWA-based website can work amazingly even when connectivity is lost. 
With tremendous offline ability, advanced web applications provide a reliable shopping experience to the users. PWAs are great for on-go shoppers, who may periodically lose internet access. It ensures that your customers will stay engaged in those moments by letting them continue browsing the product catalog.
Secured
The best part of PWAs that attracts entrepreneurs the most is their security. PWAs are secured by default because web security needs to enable its app-like capabilities. To be a PWA, it should be served over HTTPS to provide privacy and security for users.
By enabling HTTPS, you give your users a sense of security for a safe browsing experience. With the presence of HTTPS, your progressive web apps can make sure that all communication with users is protected, including customer information, payment transactions, along with browsing history.
Engaging
There is no use in having a website if it is not engaging. But when adding a feature like PWAs on your website, you should not be worried about customer engagement. Because PWAs are equipped with a range of advanced features that facilitate customer engagement for an eCommerce store.
They can earn a place on the website's home screen, enabling rapid repeat access without launching a browser. The ease of accessing the web app right from the user's home screen can help PWA achieve high user engagement of the native app.
Enhanced Performance
The running speed of the progressive web application is enhanced because this application can function efficiently, operate as a website, serve text, cache, images, and other content. 
This kind of software improves the page-load speed and provides a better user experience, enhances retention rates, and promotes the loyalty of the customer. Thus, if you have a content or retail provision business, progressive web applications are the best for you.
Operating Offline
You can operate PWA offline. When your network connection is unstable, PWA will still work as a clock in an offline mode. Due to the in-built service workers, the features and information of progressive web applications are served and cached. 
This enables accessing the PWA without downloading it, especially with poor network connectivity. It is more beneficial in the retail industry, as in case of internet crashes, it still allows viewing information users accessed previously. 
If the information is new, they will be redirected to a custom offline page. This way, customers will not abandon the catalog, which will help enhance customer retention. 
No need for regular updates
Native apps on android or iOS offer regular updates on devices, which consumes data of mobile network or Wi-Fi connection – leads to an increase in cost. On the other hand, PWAs are totally different as they eliminate the issue of regular updates. 
They are like the web version. You find the update only when you load the app, not like a regular app, which needs regular permission.
Low, Development, and Maintenance Cost
Developing a Native mobile application can cost you more than creating a PWA. PWA can be built at almost half of the price of the native mobile app as progressive web apps can be easily used on any platform because it does not need different versions for different devices.
 PWAS can quickly meet the demands of each parameter on which it operates and dismiss the extra effort of developers for development and maintenance.
In a Nutshell
PWAs are the latest web development trend that everyone follows and has become a fantastic choice for numerous companies. With the help of progressive web applications, users become more satisfied with the loading speed, offline mode, home screen access, data privacy, and extra security. 
If you aim to improve your mobile app running speed, performance, customer satisfaction, and user engagement, progressive web application is the best you can get. Because you'll get the best progressive web app benefits that will benefit your business. To implement PWA, you can take the help of a professional PWA App Development Company like Nascenture. We own a team of experienced developers who can create future-proof PWA solutions for your business. 
So if you have a query or want to discuss your upcoming project feel free to contact us anytime. We can resolve your queries and help you with the development process.