The ability to be productive is a very individual trait. You can learn how other people stay productive by reading about their methods, but remember that what works for one person might not suit your own working style. And the same holds true for apps designed to increase efficiency. There are a lot of apps and tools out there, so it's crucial to know what you need. Perhaps you have a knack for taking notes but struggle to maintain attention. Another possibility is that you have an excellent method of coordinating with your team and external contacts, but a less-than-ideal method of setting up meetings.
We've done the groundwork to help you sort through the plethora of mobile apps available, and you can use them here at Hive. This post will help you find the finest productivity software for your specific needs. Here are the top productivity apps that can help you meet your needs and get more done in less time, from digital notebooks to project management software.
An Overview of Mobile Productivity App
Mobile productivity apps are pieces of software that can be downloaded onto a smartphone, tablet, or wearable device to help its owner get things done. Note-taking, email, calendaring, to-do lists, and reminder apps, as well as word processing, spreadsheet, and presentation software, can all be accessed from a mobile device, allowing users to be more productive no matter where they happen to be.
Apps designed to increase productivity on the go are now tailored to the touchscreen interfaces of modern mobile phones and tablets. More and more software makers are making desktop productivity tools available as mobile apps as developments in app development have made it simpler for users to view and edit files on their devices. These programs make it simple to upload files to the cloud, keep them in sync across devices, and distribute them to others.
Work Smarter with Productivity Apps
Productivity apps can be as simple as a timer or as complex as a whole behavioral tracking system. Here are some apps that can help you get more done with less effort and maximum effectiveness. Let's analyze it in detail.
1. ProofHub
One of the primary reasons why people aren't productive at work is because they are either too busy to get anything done or aren't structured enough to do it. The ProofHub app allows you to manage your projects, teams, and communications regardless of where you are at your desk at the workplace, on a cruise ship, or anywhere else in the world. This simple and straightforward application was developed to break up the boredom of routine office work. The mobile app for ProofHub is all you need to enhance productivity by connecting with your team and clients, delegating specific tasks to each member of the team, and monitoring the amount of time each team member spends on a particular activity.
2. Todoist
If you are a professional who could benefit from a dedicated to-do list software, then you should give Todoist a try. As its name suggests, Todoist is a to-do program that allows users to create new projects, prioritize them, and then file them away alongside other items that share similar requirements. After finishing an item in Todoist, you can cross it off your list, which provides a special sense of accomplishment. Though developers won't call Todoist flawless, it does have everything you'd want from a premium task manager.
3. Chanty
When it comes to group communication via video, audio, and text, the Chanty app is your best bet. It's a group chat service where groups of any size may communicate and collaborate. Chanty allows you to easily create, manage, and delegate tasks, and you can even do it over text messaging. If you're looking for a flexible, visual, and straightforward approach to implementing the scrum technique, the Kanban board is your best bet. More than twenty different integrations mean you can streamline your processes without leaving your centralized hub. Each member of the team, or the entire group, can participate in audio and video conferences with the option to share their screen.
4. TickTick
The program TickTick is both a to-do list and a task manager, and it features a clean and simple user interface. You can add tasks, as well as subtasks, set deadlines and reminders, and even share them with other members of the team if you use the TickTick application. The program was developed with the intention of making the management of tasks less chaotic and more orderly. It provides support for a variety of characteristics, such as lists, tasks and subtasks, priority levels, and tags, to assist you in better organizing your chores, maintaining clarity regarding your priorities, and achieving greater outcomes regardless of the circumstances.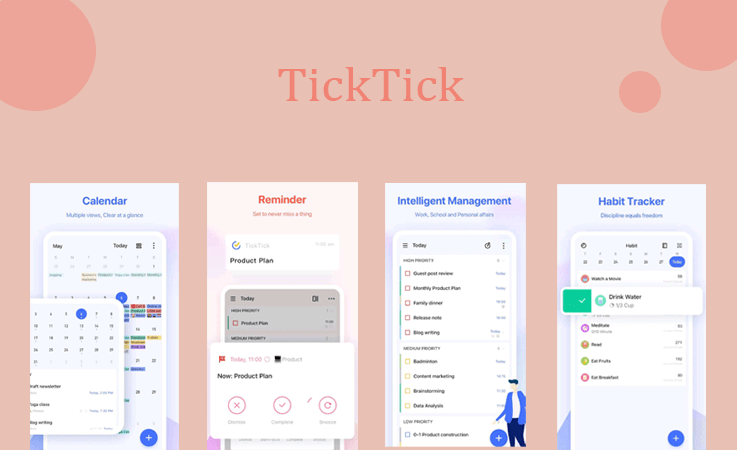 5. Hive
The Hive platform is a top-tier productivity tool. A mobile app is an additional tool for boosting morale and productivity in the workplace when synced with the desktop and web versions of Hive. In Hive, workers can see updates on the status of their projects and tasks, as well as chat in real-time, work together on timetables, share documents, and more.
There are even more time-saving tools available in the desktop and web versions of Hive, in addition to the mobile app. A Gantt chart, Kanban board, calendar, and other perspectives are all available for every project to accommodate a wide range of working preferences. All team members can work in the most productive way for them, and progress on the project is represented in all views. Your personal to-do list will be updated with all tasks allocated to you across all projects. This will keep you accountable and allow you to better organize your work.
6. Evernote
Evernote is a well-known tool for organizing notes and serving as a planner, making it a popular choice for keeping track of all of your ideas in a centralized location while also making it easy to take notes. The Evernote software gives you the ability to take notes not only by writing them down, but also by taking pictures, recording voice, creating digital sketches, downloading PDFs, and more; all of this content is instantly searchable. In addition, you can synchronize all of your notes across several devices, making it simple to carry everything you need with you wherever you go.
7. Google Tasks
The task management built into Google itself is called Google Tasks. Those searching for a to-do list software with a clean, uncluttered interface and uncomplicated functionality may find this one to be an excellent option. Even while it appears to be a simple software for managing to-do lists, it actually integrates with Gmail and Google Calendar, which transforms it into a powerful tool. You may create tasks directly within your email with Google Tasks, and then attach those tasks to your calendar later on. In addition, you are able to monitor deadlines by entering due dates and receiving reminders.
8. Trello
Trello is the best option for organizing your projects, chores, and other tasks because it is not only free but also simple to use and interesting to look at. Trello's adaptable features for project management and task management make it easy to use the platform to manage anything from a simple personal to-do list to a comprehensive group undertaking. In addition, the Trello app is appealing to the eye, has a great deal of practical functionality, and does not cost anything to download or use at this time.
9. IFTTT (If This Then That)
With the help of the automation tool known as IFTTT, connecting apps and services is a piece of cake. IFTTT has you covered whether you're trying to automate everyday occurrences or more out-of-the-ordinary situations. If you would like, Google can send you a reminder in the event that it is forecast to rain the next day. You can even set up notifications for things like when the International Space Station is traveling over your area if you're in the mood for something that requires a bit more creativity. By automating manual tasks with the help of this program, you will be able to save time and effort while also freeing up your mental capacity to focus on the aspects of your profession that are more important.
10. Ryver
If you're familiar with Slack, you'll find that the Ryver app is quite easy to pick up and use. This program was developed specifically to make it easier for members of a team to communicate with one another in order to discuss projects and get them done on time. The capacity to establish any number of distinct teams within Ryver is one of the most prominent features that sets the platform apart from its rivals. You have the option of speaking to either a group or an individual when you use this service. In addition, you have complete control over the teams that you feel are most pertinent to you as well as the people who have the potential to view what you say and share within the app.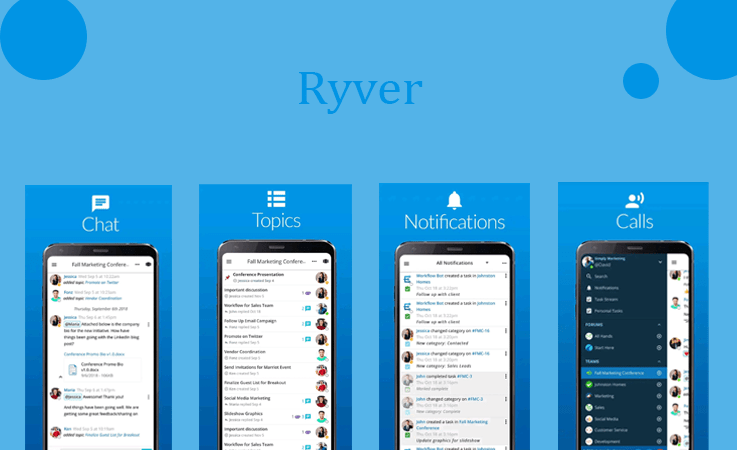 Built the Best Mobile Apps for Productivity
The purpose of this guide is to assist you to find the right productivity apps to help you succeed in your professional endeavors. We are aware of the fact that maintaining productivity calls for constant focus and self-control. Though time and task management apps for mobile devices can help you get more done, it's ultimately up to you to make the most of them. If you, too, want to boost your productivity with the help of a mobile app, you may reach out to a mobile app development company for assistance. This is due to the fact that experts have a deeper understanding of your needs and can use that knowledge to assist you in building a robust and reliable solution.